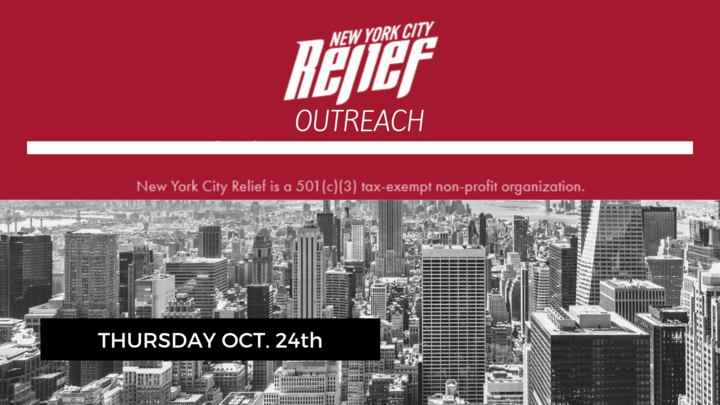 NYC RELIEF OUTREACH / ALCANCE DE AYUDA PARA NYC
Dates & Times
Oct 24, 2019

6:15am - 4:30pm
Details
NYC RELIEF OUTREACH
WHEN: Thursday Oct. 24th
TIME: 6:15am SHARP(meet at Bridgewater Campus) - 4:30pm(back at Bridgewater campus) The Outreach will Begin at 7:15am in Elizabeth
OUTREACH: Partnering with NYC RELIEF to minister coffee, pastries, socks, council and prayer to the inner city.
SPECIAL NOTES: Some of us will travel on the Relief bus from Elizabeth to the ministry destination and some will travel on public transportation. Please bring $20 with you to pay the fare if you happen to end up in a public transportation group. Do not worry if you do not have the fare. We will make sure you are on the bus for free transportation.
REGISTRATION: We are allowed a 20 person max for the event. Please register as soon as possible if you are interested.
---
ALCANCE DE AYUDA PARA NYC
CUÁNDO: Jueves 24 de Octubre
HORA: 6:15am (reunirse en el campus de Bridgewater) - 4:30pm (estaremos de regreso al campus de Bridgewater) El alcance comenzará a las 7:15am en Elizabeth
ALCANCE: Asociarse con NYC RELIEF para ministrar café, pasteles, calcetines, consejo y oración al centro de la ciudad.
NOTAS ESPECIALES: ¡GUARDE LA FECHA! ¡Pronto habrá más información sobre los eventos del día!
INSCRIPCIÓN: Se nos permite un máximo de 20 personas para el evento. Regístrese lo antes posible si está interesado.